FEATURED PRODUCT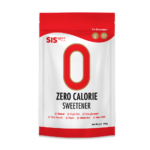 SISNext Zero Calorie
Sweetener
150g
Buy Now
Banana Soy Milk Smoothie
Bananas are good source of vitamins B and minerals especially potassium. They are naturally fat and cholesterol free. Enjoy this super simple and tasty drink, even if you are lactose intolerant.
COOK TIME
3 minutes
SERVING SIZE
1 Pax
INGREDIENTS
1 ripe banana
1 teaspoon lemon juice
60ml of soy milk
1 tsp SIS Next Zero Calorie Sweetener
METHODS
Peel and cut banana into slices, sprinkle with lemon juice and freeze.


In a blender, combine the frozen banana, soy milk, SIS Next Zero Calorie Sweetener and process until desired consistency. Add more soy milk if it is too thick. Pour into a glass and serve immediately.
See More Recipes
Find your favourites recipes here all made with our Sugar Blend and Sweetener.
© SIS '88 PTE LTD, 2021. All Rights Reserved.
We use cookies to improve your experience and support our mission. By using our sites, you agree to our use of cookies.