FEATURED PRODUCT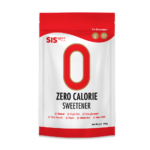 SISNext Zero Calorie
Sweetener
150g
Buy Now
Earl Grey Nama Chocolate
"Nama" means raw in Japanese, and "Nama Chocolate" is raw chocolate or ganache made with quality dark chocolate and cream. This homemade Nama Chocolate with a twist of Earl Grey is a truly a special treat. Perfect for enjoying yourself or as a gift for the holidays!
COOK TIME
15 minutes
SERVING SIZE
8 pax
INGREDIENTS
350ml whipping cream
4g SIS Next Zero Calorie Sweetener
2 Earl Grey tea bags
30g unsalted butter
Cocoa powder, for dusting
METHODS
Prepare an 8"x8" square tin and line with baking paper.


Add whipping cream, Early Grey tea bags, butter and SIS Next Zero Calorie Sweetener into a saucepan and bring to simmer over low heat.


Press down the tea bags gently to help infuse the tea into the cream.


Remove the tea bags and take the saucepan off the heat.


Pour the warm cream over the chocolate and stir until the chocolate completely melted.


Pour the mixture into the square tin and spread evenly.


Chill in the fridge for at least 5-6 hours.


Take out the chocolate and cut into 1.5"x1.5" square with a hot knife. Dip the knife in hot water and wipe off with kitchen towel after every cut.


Dust with cocoa powder using a fine mesh sieve and serve the chocolate chilled.


Store them in airtight container and may be kept in the fridge up to 2 weeks.
See More Recipes
Find your favourites recipes here all made with our Sugar Blend and Sweetener.
© SIS '88 PTE LTD, 2021. All Rights Reserved.
We use cookies to improve your experience and support our mission. By using our sites, you agree to our use of cookies.